True to form I am writing about Thanksgiving almost a week late. Would you expect anything less?
Despite the fact that
I do not clean
and
can not cook
, we always host holidays at our house. Because it wouldn't be a holiday without all the running around shoving things into boxes and trying to cram those boxes under tables that are already overflowing with boxes crammed with stuff from the last holiday, all while screaming at each other to clean up this or move that and swearing that
it will never get this bad again
. Right?
It also
wouldn't be a holiday without a visit from our friends the Pipe Gremlins
now would it?
Less than a week before Thanksgiving day the
kid's bedroom
flooded.
Again
.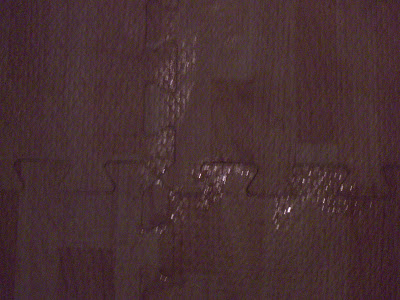 I called my husband to give him the bad news and then I ran outside expecting to see the spinning of the dial on the water meter. No spinning. What? No spinning? This is new. Where did all this water come from? If it's not
another slab leak
what could it be?
My husband came home and we took most of the furniture back out of the kid's room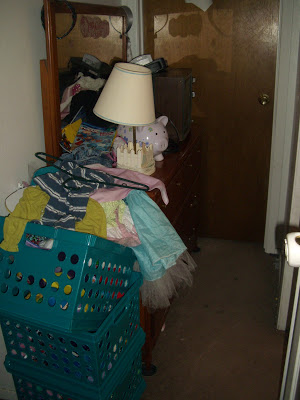 and
pulled the floor up
to let the concrete dry.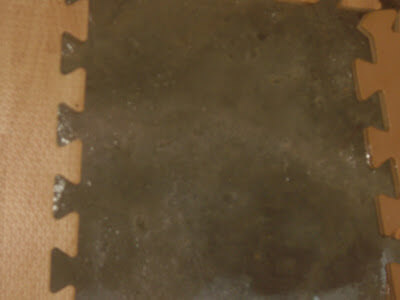 Then we attempted to solve the mystery of the source of all the water.
I had just given my daughter a bath. So we decided to test the bath tub. We filled a bucket with water and dumped it down the drain. No leak while we were filling the bucket but
the minute we dumped it we had water
. So, this time it is the drain from the bathtub. You know, one of the very few pipes left in this whole house that hasn't been replaced (
drain line from house to street and fresh water leading from street to house
) or recoated (
all fresh water pipes inside house
) or capped off (
gas line
) or something. Good thing our house has two bathrooms. I guess we will just have to
redo the other half of the bathroom
...
With all this going on and all the furniture scattered about the house, kids camping out in the living room on their
mattress on the floor
, pieces of floor everywhere, and the rest of the mess in the house,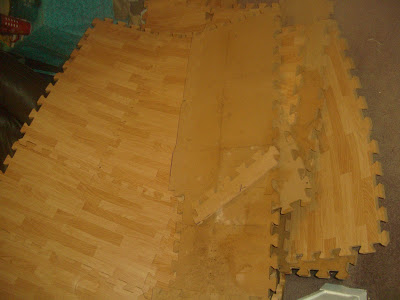 I was tempted to cancel Thanksgiving
. Not the actual holiday because I don't have that kind of power or anything, just our own little celebration.
Then I found out that several of our guests would be unable to make it because seasonal illnesses. I came very close to opting for all going out to eat somewhere.
Instead
I decided to cheat
.
Now I am not going to pretend I haven't cheated in the past. In fact I have always cheated at least a little bit. I have only ever cooked one Turkey. It was a very interesting process involving many various kitchen instruments (I don't touch raw meat) and took about 11 hours in the oven waiting for the thermometer to pop before we gave up and ate it anyway. It looked and tasted cooked!
Here is my guide to having a very
Non-Domestic Thanksgiving
How to Cheat on Thanksgiving.
Turkey
: Smoked = precooked. Just put it in the oven for two hours to heat up. Similar to a ham.
Ham
: Same as Turkey.
Sweet Potatoes
: Country Crock pre-made. Trust me they are delicious. Just scoop them out into a baking dish, cover with marshmallows and heat until the marshmallows are brown and crispy. No one will know the difference. Except they will probably like them better than last years. And ask for the secret family recipe. Ahem.
Mashed Potatoes
: Same as sweet potatoes except without the marshmallows. Or if you get lucky, Granny will offer to make her version which are
heaven
. Win!
Broccoli Rice Casserole
: Good old Country Crock sides again. Could also go with Green Giant steamers. Either way a couple minutes in the microwave and then pour into a pretty bowl.
Various other veggies
: Steamers again.
Creamed corn casserole
: Ok, don't really know a cheat for this one other than to let my lovely sister in law make it. Again,
heaven
.
Stuffing
: Stove top anyone? Oh yeah! Or maybe you will get lucky and Granny will get bored and make her dressing. More
heaven
.
Gravy
: Heinz Homestyle in a jar. Heat and pour into the gravy boat. Beautiful.
Rolls
: Nothing beats Pillsbury Crescents from the can.
Cranberry Sauce
: Again from the can. You just can't beat Ocean Spray Jellied Cranberry Sauce. I can eat it straight from the can. As a matter of fact... I have a can left over... hang on a sec... mmmm.
Pies
: They make them and put them in boxes and freeze them. Then you just thaw them or put them in the oven for a few minutes. "Nobody does it like Sara Lee." Right? Or is it "Nobody doesn't like Sara Lee"? Whatever, same thing really. Honestly though, I didn't really cheat on the pies. I made them the night before. Unless of course you count buying the can of pumpkin and following the directions on the side of the can cheating. Also I bought a kit from Carnation for the chocolate pie. Must have been good. It was devoured pretty quickly. Usually, I also make Sopapilla Cheesecake. This time since we had so few people and several of them have milk allergies I decided not to make it.
Most years I set the table with my beautiful
thrift store china
but this year I opted for super fancy "crystal" disposable plates and cups. Super fast clean up!
Easiest Thanksgiving ever
! And you know what? I got tons of compliments on the food. It was delicious and devoured. What little was leftover we all ate happily for lunch the next day.
I'm just saying
Christmas
will probably go very similarly. I might use real plates though. Maybe!