Remember
my ugly bathroom
?
Ugly!
Ugly counter top!
Ugly dated cabinets.
More specifically, do you remember
what was under the sink
in my ugly bathroom?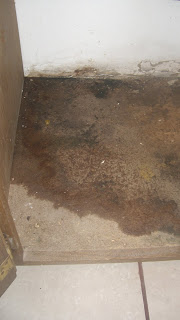 Yuck!
Well for obvious reasons something had to be done about that.
So, while
I was waiting for Vanilla Ice
to swing by and fix my bathroom . . .
I decided to take matters into my own hands.
Ok, I had some help.
None other than . . .
My dad!
You know, I did the brunt of the work but
he came in handy now and again
.
First, he found a new cabinet at the Habitat for Humanity Restore.
Then he bought it for me.
Loaded it up in his car and drove it the five hours to my house.
Meanwhile I drove the five minute drive to Sherwin Williams and bought some paint samples.
I then began the tedious work of painting multiple stripes on the wall and agonizing over color choices. I decided I hated them all and so pulled out the ten thousand "paint chip" cards and scattered them across the counter top. Still reaching no conclusion I interviewed anyone I could find, including my two children, and asked what colors they would pick. Not being happy with any of the answers, which basically consisted of, "you should pick what you like" or in my son's case "paint it red" I ultimately decided
I would hate any and all colors even remotely associated with beige
but because of my stubborn desire to have a bathroom that looks something like this . . .
I would have to just pick one and put it up. I was also tired of spending the $5 per sample. I assured myself that once the project was complete and the entire wall was painted instead of a small section I would end up liking it.
Gulp.
I picked Sand Trap for the walls.
I also had to chose a paint for the cabinets since the new cabinets and the old cabinets that were staying didn't exactly match.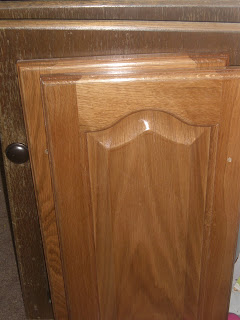 New cabinet doors in front. Old doors in back.
That was a much easier decision. French Roast for the cabinets.
My dad began tearing out the cabinets. Also, the counter top had some water damage as well so we were forced to replace it.
Water damaged counter top/backsplash.
My dad took me to Lowe's and I picked out a new one.
So, my dad began ripping things out and I started sanding and painting the new cabinet.
Old cabinet about to be removed.
Once we had the old cabinet out we were able to see how bad the water damage really was.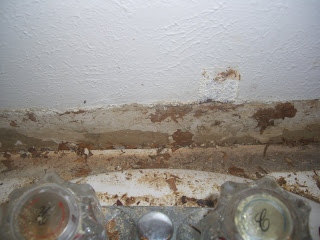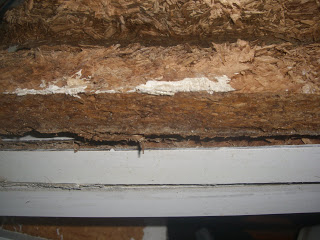 Water damaged backsplash.
Inside the cabinet.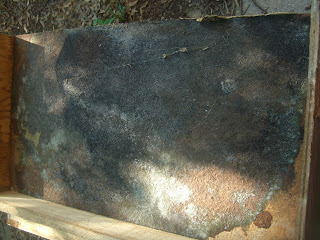 The under side of the cabinet.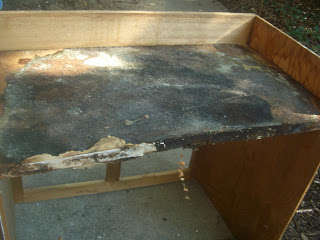 Ewwwww!
The rotted drywall had to be cut out and replaced too. This time with cement board.
Dad measured and cut the new counter top and I started painting.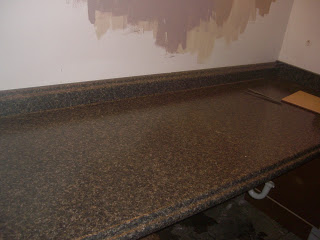 Counter top and paint splotches. The splotch all the way to the right is Sand Trap.
I instantly hated the color
. It looked like cardboard! Ugh. Since I had already bought it, and was stuck with it regardless, I decided to give it a chance and paint the whole wall.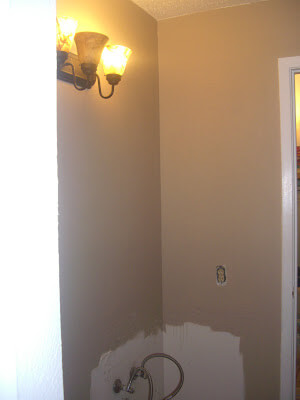 Oh, that's better. I actually kind of love it!
As it turns out the paint color goes perfectly with the light fixtures and the colors in the counter top. You might think
I had totally planned that out on purpose
!
Dad put in the new cabinet and realized it was several inches taller than the other side.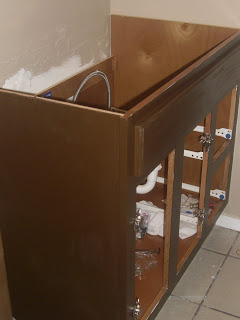 New cabinet with my stellar paint job.
So, he had to build up the other side to match.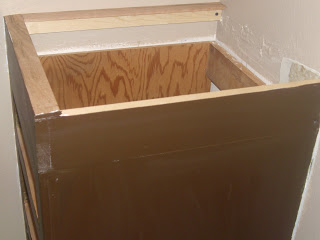 Other side.
And I painted the addition.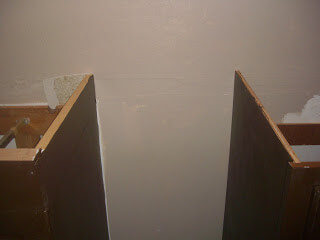 Same height.
Now, you remember my beautiful faucet?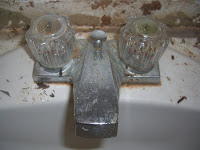 That coordinated so well with my tub faucet?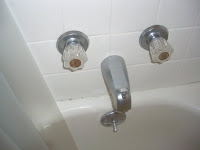 Well dad thought it would be better if it coordinated with the new cabinet and counter top.
So, he bought me a new one!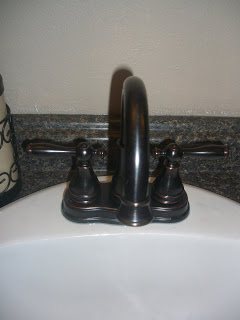 New faucet!
Once the cabinets, counter top and new faucet were in and everything was painted.
Spectacularly I might add . . .
Ok, it needs another coat. But you really can't tell with the bathroom lighting!
There was still something missing . . .
Remember when
this happened
?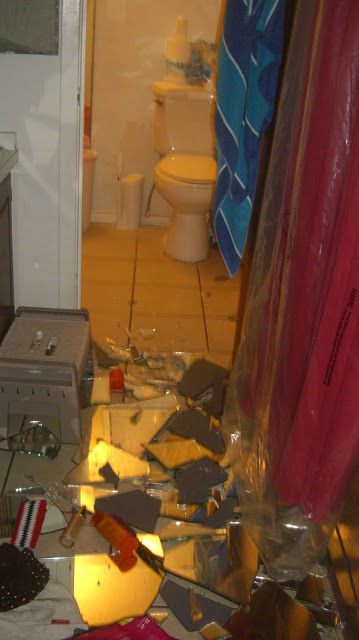 Mirror fell off the wall.
I still needed a mirror!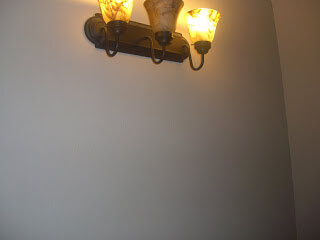 Blank wall without mirror.
It just so happens that several years ago I happened to buy a mirror at a garage sale for $5. It's been sitting in my garage ever since. Of course, in my eagerness, I forgot to take a before picture. It was brass. Actually it was plastic the color of brass.
I decided to spray paint it
. My parents were horrified at the idea!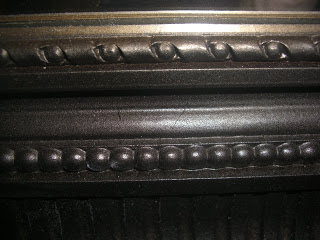 Spray painted Oil Rubbed Bronze.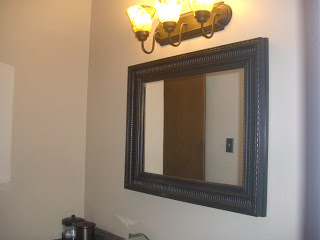 "New" Mirror
My parents had to admit it looks good spray painted!
We realized it is a bit on the small side so it would be hard for the kids to use. So, my mom bought me another mirror to go on the wall next to the sink. We found it on sale at Lowe's.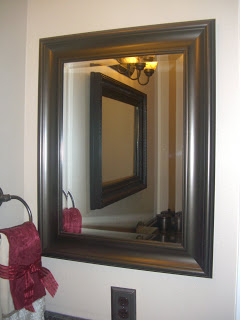 New Mirror!
I bought the towel ring and red towel at Target. The other towel I had bought at Target a couple of years ago. The ribbon is from a teddy bear but the kids keep pulling it off so I have re-purposed it!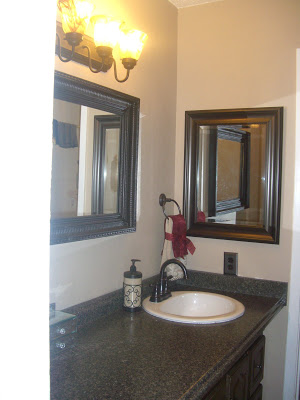 Pretty!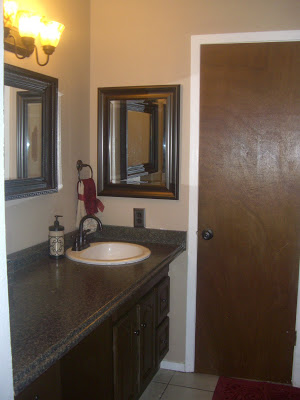 So Pretty!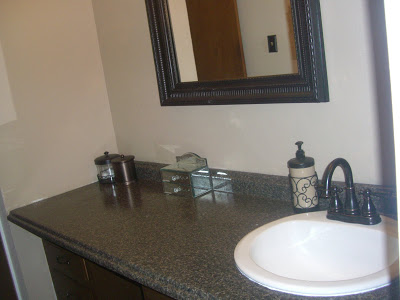 Preeeetttty!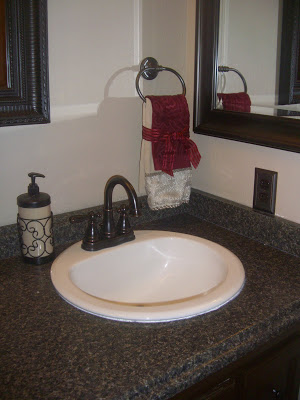 Even my old sink looks new!
I can't believe it's really my bathroom!
I keep going in there to check.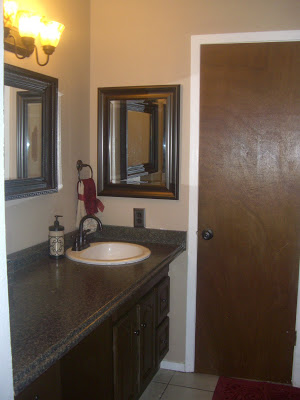 Still Pretty!
I was a bit worried the kids wouldn't like it. The cabinet is higher so the Peanut is back to needing the stool to wash his hands and the Princess can't reach at all unless she climbs up on the counter top. Which she has been known to do . . .
As it turns out I shouldn't have worried. They love it almost as much as I do!
Peanut keeps telling me, "Thank you for making us a pretty bathroom mom!" Ya, that's right. Don't forget though, Pop Pop helped a little!
As in every Christmas and Birthday present is covered for the rest of eternity!
Princess keeps walking in and running her hand over the counter top and saying, "It's sooo nice!" Over and over.
Even my husband, who thinks the best paint color is white, and hated the faucet, and was generally skeptical about my design choices . . . told me that he thinks
the bathroom looks really nice
! Victory!!!!
Kind of like my issue with the paint colors. I think he just had to see it all put together.
I still have to do some touch ups on the paint. And of course paint the other wall. And the other room . . .
Once again.
Ugly Bathroom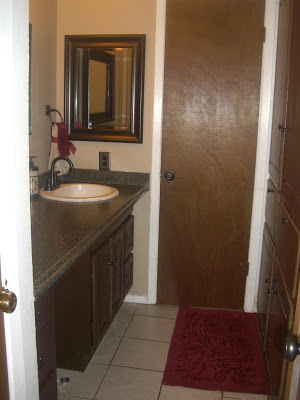 Pretty Bathroom