This weekend was spent installing a new floor in the kids room.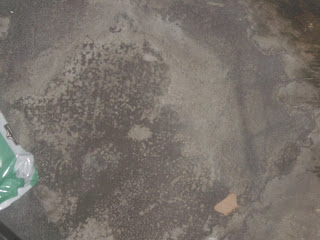 You may recall our incident with the
pipe gremlins
that resulted in one ruined carpet and two kids without a room of their own.
After all the plumbing was repaired and enough time had elapsed to be relatively sure (holding our breath) that there would not be a re-occurrence (again) the time had finally come to install a new floor. I still really wanted to put cork in but we were and are still wary about possible future leaks. Excess funds haven't exactly been flooding in (pardon the pun) either so we had to come up with a more economical solution.
Again I will have to give my husband the credit for his genius idea. One day he came home from work and said, "Why don't we just get some of those puzzle foam mats and lay them down."
At this point I also have to admit to the fact that I did not immediately recognize his genius.
That was the
stupidest
idea I had ever heard so I set out to research the cost, durability, toxicity and any other factors I could come up with to prove that
cork
was the way to go. The more I researched the more I was swayed. It would be significantly cheaper, easier to install, easier to fix if a "tile" gets damaged (just pop one out and another in) and surprisingly not chock full of BPA like vinyl. It is soft enough for the kids to roughhouse on without injury. Best of all the floor doesn't have to be leveled first. So I was left with only one objection.
It's not as pretty as cork!
Then I found
this
at
One Step Ahead
and I agreed to give it a try.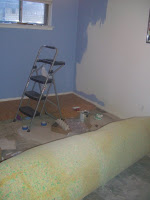 Keep in mind that this was our first DIY project unless you count painting the living room. Since that project I have done all painting myself. I found it much easier to paint a room by myself than to listen to my husband whine the whole time about how much he hates to paint.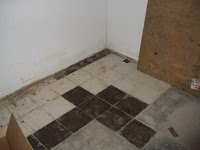 We started the project by pulling the carpet the rest of the way up and then in the attempt to make the floor a little more level (futile gesture) we popped up the old vinyl tile (I really just wanted the vile stuff gone) underneath.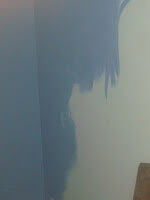 While my husband pulled up carpet tacks I painted the room. The color I used was a can of "oops" paint I found at Lowe's. It is a beautiful periwinkle color that is perfect for a shared boy/girl room. Normally I am a die hard Sherwin Williams paint girl but for $5 I couldn't pass it up. I still like painting with Sherwin Williams paint better (plus the prefer the color selection) but the Valspar was not hard to work with and it covered well. I would use it again if I ran across another great deal on a color I liked.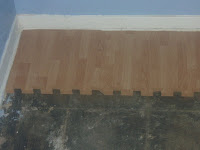 Once I had half the room painted my husband started laying down the floor mats.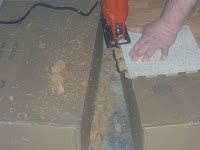 He bought a jigsaw to cut the edges. I nervously kept the phone nearby with the ambulance on speed dial. The mats were soft enough that I think we could have cut them with a utility knife or even scissors but the saw did make things faster and probably cleaner.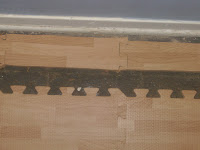 This was probably the easiest DIY project ever. Unfortunately my math skills are a bit lacking and I may have underestimated the amount of flooring needed. We still have a few edges we will have to fill in later when I order another pack of mats.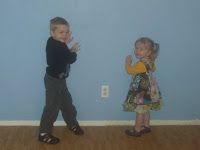 We have not moved the furniture back in yet because we want to get furniture pads to minimize the damage to the mats. So far though I am really loving the new floor. It seems durable enough. I think the heavy furniture like the dressers will leave dents and gouges so we won't be able to do a lot of rearranging once we get everything in place. The good news is I can always just take a piece out and replace if needed.
The kids spent yesterday evening and most of this morning running around the room breaking in the new floor. My daughter even rode her little tricycle around and the floor held up.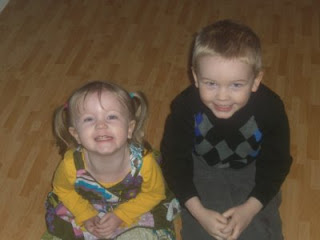 On first glance it really looks like a wood floor. It is now the nicest looking floor in the house. Of course that doesn't take much.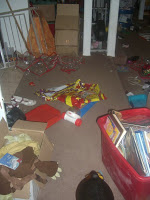 Today's project will be moving all the toys back into the room. We pulled everything out and just crammed it anywhere we could fit it. The kids thought it was Christmas all over again.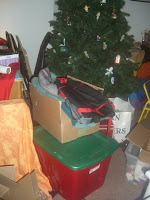 No it has nothing to do with the fact that I still haven't gotten around to taking the Christmas tree down!
They haven't seen most of their toys for months. In seconds every bucket and box was dumped out with contents strewn across the living room floor. We couldn't even walk across the room.
Tomorrow is my Mother-In-Law's birthday and she is coming to our house to celebrate. My husband ever so nicely suggested I spend my day cleaning the house.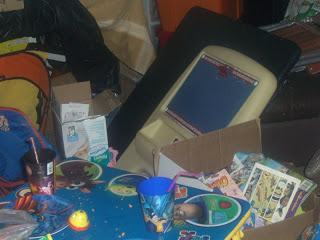 I have my work cut out for me.
That is why at 2pm I am still sitting here with nothing accomplished.
Except this blog entry. :)
And all my
progress
in the kitchen . . .