Yesterday, I read
this post
and it reminded me of a specific trip I took to the grocery store when the Peanut was a little guy.  I don't remember exactly how old he was but my daughter wasn't born yet so he would have been younger than two.
About half way through my grocery shopping he started throwing a huge fit.  And let me tell you.  He was the master of the fits.  The blood curdling shriek kind of fits.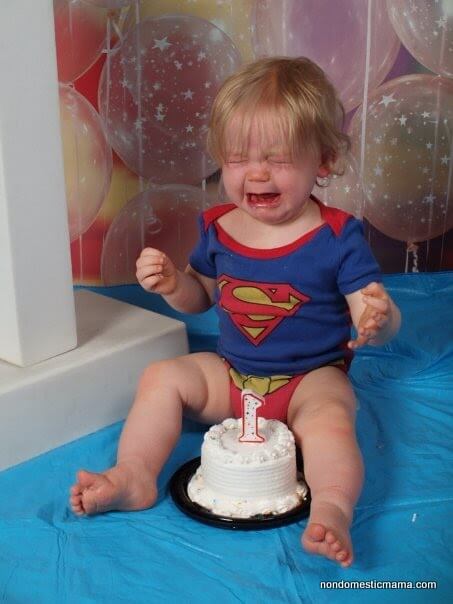 Once he got started, there was just no stopping him.  That put a quick end to my shopping trip.
And I think only a parent can really understand the frustration of having to leave a grocery store without all the groceries.
Anyone with kids knows what an ordeal grocery shopping can become when you have to take little kids along.  There is never a quick trip for essentials.  Just getting to the store is a colossal effort.  You have to get the timing just right.  Not nap time, not food time, not grouchy time, not poopy time.  You have to find the time when your baby is the most likely to let you get through the store without incident.  That time doesn't actually exist but you make your best effort.  Then you have to get yourself and the baby dressed, pack up all the necessary gear, diapers, wipes, entertainment, food items, pacis, anything that will keep that baby happy.
Load it all up in the car and get yourselves out the door.  Which is right when the baby will need a diaper change.  Back in, change, back out.  At this point, you are running much later than you thought you would be and it is encroaching dangerously in on nap, feeding, grouchy time or worst of all poopy time.  There is nothing worse than a poop explosion at the grocery store.  Don't ask me how I know that.
By the time you have done all the work of getting to the store, you better bet you aren't just going to grab that one thing and get out of there.  Because that would mean having to go through all the preparation
AGAIN
, another day, for the rest of the groceries.  Nope.  Not even gonna happen.  Once you manage to get there you better get
everything
.  As in anything and everything you will need for the next month, year, however long you can make it before items would start to actually spoil.
There is no greater tragedy than getting home and realizing you forgot that one essential item.  Because there is no going back.
How many times have you heard or even thought, "If my child ever threw a fit like that we would just leave the cart and walk right out of the store."
Most people say phrases like this all the time.  Until they actually have kids.  I'm guilty of it myself.  I promised myself I would "never be
that
parent."