This past weekend my husband, kids and I all traveled by car 4 hours to spend the weekend in Oklahoma attending a wedding of one of my college roomates. I spent the weekend involved in various wedding preparations and other
bridesmaid
attendant duties. I will tell you more about that as soon as I get all the pictures scanned into the computer. (Requires me to go all the way upstairs to use the scanner. I actually wrote the post on Monday but have been procrastinating on the picture part all week.)
Let me tell you how my husband spent his weekend.
On Friday at 11:30 we arrived and my husband dropped me off at the church for the bridesmaid luncheon. (Translate catching up with old friends while potting herbs and eating sandwiches. It really was more fun than it sounds.) My husband who couldn't check in at the hotel until 3 took the kids and went shopping at the mall for socks. Yup. Leisurely 3 1/2 hours of mall shopping with two toddlers who had just spent 4 hours in a car and no stroller. Lucky guy!
At 3 he checked into the hotel and spent several hours watching Sponge Bob with two toddlers who love to
sing
scream the theme song at the top of their lungs while
dancing
trying to sound like a herd of elephants to the room below.
I arrived back at the hotel shortly after 3:30 to change and be back at the church for the rehearsal by 4. After the rehearsal he joined us for the rehearsal dinner. Then it was back to the hotel for him and my two children along with another boy (son of the bride's older sister) who my husband volunteered to watch so that we could fulfill our attendant duties of attending the "after party." Drinks at the bar while reminiscing our old college days. We were out until the wee hours of 11:30 and patted ourselves on the back for lasting so long proving that we are not as young as we once were.
The next morning I was off for a hair and makeup appointment and once again my husband found himself lucky enough to spend the day in a hotel room with three kids. Did I mention this particular day happened to be a National Holiday? Ok, it might not actually be a National Holiday but to my husband it is just about the best holiday there ever is, or was, or could be.
Cue drumroll.
The day was . . .
FREE COMIC BOOK DAY!!!
Unfortunately this presented him with a slight problem. He had no way of transporting himself and three kids to the comic book store having only two carseats. "No problem." He calmly told me as I saw the heartbreak in his eyes. "It's not important." But I knew it was. It was important to him. Maybe not as important as making sure things ran smoothly so that I could enjoy my weekend with my friends. But important all the same.
Thankfully he did manage to squeeze in a tiny bit of time to make it to the comic book store shortly before the wedding began. Sadly the comic book he really wanted (Star Wars) was gone.
After I was done with hair and makeup etc. I rushed back to the hotel room to get dressed and was off again to the church for pictures.
My husband after his leisurely trip to the comic book store got to the church just before the wedding started. He then got to sit with the kids, my sister, her date and another friend for the wedding ceremony.
I was sitting with the bridal party and, you know, standing in the front of the church in front of about a bazillion people.
banshee
daughter. It seems that after 4 hours in a car, a trip to the mall, a night of waking up in a strange bed and wanting her crib which was not there, two days without a nap, hours of being cooped up in a hotel room and a trip to the comic book store, the final straw was being dressed up, sat on a church pew and told to be quiet and still. She lost her ever loving mind!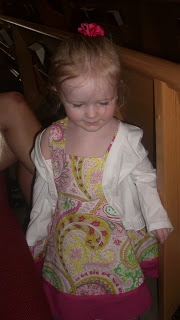 All prettied up.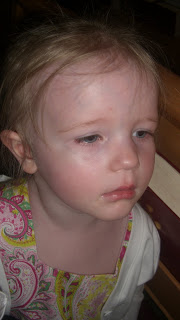 About to lose it!
Now I bet you are breathing a sigh of relief thinking we have finally made it through the worst. I know I was. The reception will be a breeze now. Right?
He laughs!
My husband and the kids found themselves at a table with the same group they sat with at the ceremony. I was over at one of the wedding party tables.
Things were going ok, the kids were being preoccupied with watching Veggie Tales, on Netflix, on my husband's phone. Then the time came for the toast.
Now I have to interject here a little and tell you about the younger sister of the bride. I have known both the bride and her sister since . . . forever. We grew up in the same city, went to college together, worked together during summers home, etc. After college Melissa (bride's lil sis) found herself living and working in New Orleans. The bride, Erin, was living in Oklahoma. Melissa decided to take a trip to visit her sister with a stop off in Dallas to visit college friends. She was going to stay with me and we were going to drive to Oklahoma together. The day after she arrived Katrina hit. She lost everything when her basement apartment flooded. So she ended up staying with us for awhile while she worked to rebuild her entire life.
Needless to say my husband views her as a sister. He is very protective of her. When our son was born we chose her to be his godmother. When my husband converted to Catholicism he chose her to be his sponsor.
Ok, back to the wedding. Melissa was the maid of honor. She was giving a speech. A speech she had been very nervous about. My husband and I were excitedly looking forward to hearing it.
Of course just as the speeches began my daughter lost it again. My husband scooped her up and went out the nearest exit. He was gone for the entirety of the speeches. (Yes, he missed Melissa's speech and it was a really good one. He is pretty devastated about that.) I kept looking for him hoping that he had snuck back in another door without me noticing. Finally towards the end of the speeches (probably a good 20 minutes after he had walked out) I turned my phone on (I had turned it off when the speeches started) to text him. Just then I got a text from him asking me if, when the speeches ended, I would go let him back in the door he had gone out. Before the speeches ended someone was walking by that door and noticing him, let him back in.
The toast ended and someone struck up a conversation with me. My husband gathered up the kids who were not going to last a second longer and prepared to leave. It wasn't until I arrived back at the hotel after the wedding was over that I learned of the ordeal he had been through.
As it turns out, the nearest exit hadn't actually been an exit at all. It was in fact a doorway into another room. A room that had all other exits locked off. And the door he had gone through? Locked behind him. He said it actually took a few minutes to calm down my daughter and when he tried to come back in, the door was locked. He spent all that time locked in a room, looking through a window, watching Melissa give her speech but not being able to hear it. Wondering if anyone would notice and free him.
Sunday we attended a post wedding brunch and then piled in the car for the return drive. It was Mother's Day. Get this. He actually apologized multiple times that he wasn't giving me a good enough Mother's Day!
I love my husband!! When I expressed my thanks for being such an amazing husband and father, for all the things he had done for me that weekend knowing how important it was to me, his response was something along the lines of . . . "You act like it's a big deal." "They're my kids." "Why is it such a big deal that I watched my own kids?"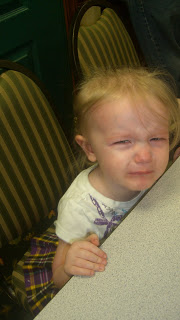 At brunch.
It was a big deal.
Once again he has set the bar so high that there is no way I can top it. What in the world can I get him for Father's Day that will even come close to the gift he gave me? As if all that wasn't enough he even bought me
The Twilight Saga: The Official Illustrated Guide!!!
Squeal!!!
Oh, and he also took me to dinner with the kids, his sister and her kids, to one of our favorite places. Pizza Inn. We totally requested it.
And my daughter?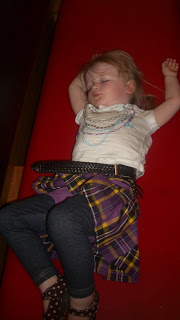 Finally got some much needed sleep.