This is my response.
1
My sister was in town for a few days this week.  She got in on Wednesday evening and on Thursday morning she got up early and left for an appointment.
When I woke up I realized it was a bit late and wondered why the kids were sleeping in so long since they hadn't woken me up.
It was quiet in the house and I was surprised to find the Peanut sitting at the bottom of the stairs casually flipping through a comic book.  I asked him what he was doing.
"Waiting for Aunt Treesa to come down."
I told him she had left for a meeting and he looked at me like I was deluded.
"No, she can't have left.  Her shoes are still here."
Sure enough, her sneakers were there by the door.
"Buddy, she wore a different pair."
He gave me a confused look and asked to go check her room.  He would not believe me until he had confirmed her absence for himself.
2
Later, the Princess woke up.
She picked out her clothes for the day.
A dress paired with a skirt.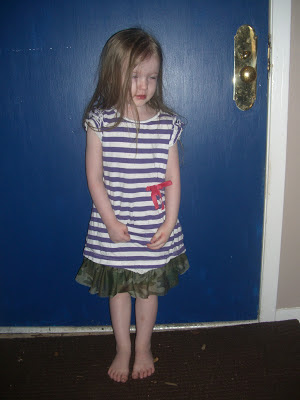 Her argument was that they went together because the skirt was twirly and the dress has a pretty pink ribbon.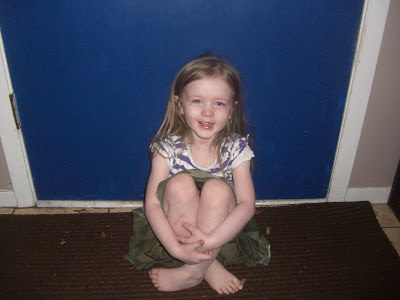 Can't argue with that logic.
So I made her tuck the dress into the skirt.
We went on about our day and around noon I told them to get shoes on because we were going to be leaving in a minute.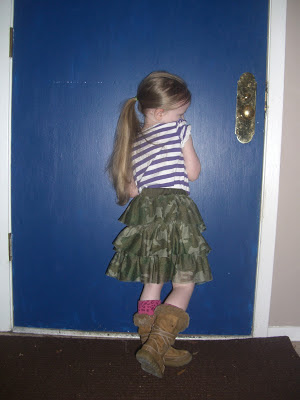 Is that an outfit or what?
My husband was coming home on lunch and we were going to do our taxes.
She was ready to go and said to me, "As soon as Aunt Tweesa comes down we going to leave?"
Again, I found myself explaining that Aunt Theresa wasn't upstairs.
Again I was faced with a quizzical expression.