Otherwise known as the, "Last minute finishing of housecleaning all while trying to get Peanut ready and to his first day back to CCD since Christmas break and get everyone else ready, oh and snap a few pics in the process."
He was late to class.
I forgot to bring his homework, which he was in the process of finishing with Dada, while I was taking a picture of what I wore.
What did I wear?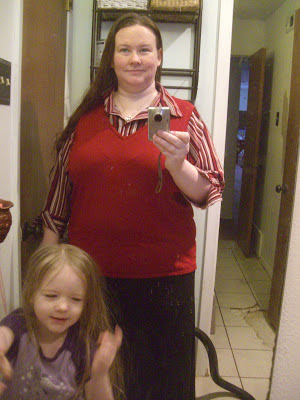 Pajama clad Photobomber
And that picture is as good as it gets. BTW, as you can see, we have decided to
store the shop vac
in the bathroom on top of
the hole
. Easy access and it "hides the hole" or at least that is what we are telling ourselves.
My husband complimented me on my shirt. "You look nice today. Kind of like a schoolteacher or something." I then explained to him the beauty of the two in one shirt. The ultimate lazy outfit. Comfy as a t-shirt but looks like you made some sort of effort. He was amazed at the genius. I have decided I need to buy more of these type of shirts because I really
am that lazy
do love them.
Shirt: Bay Studio via
Ebay
Black skirt: Cato via
Ebay
Necklace:
rerun
Boots:
rerun
I did change up my accessories a bit. Because my usual bracelet broke. So I wore this one instead.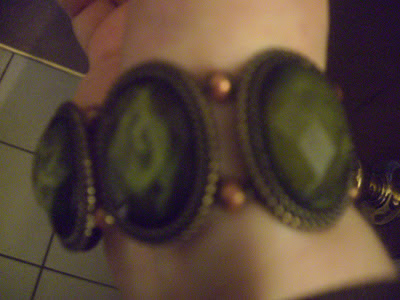 Which then broke.
And the crowning glory.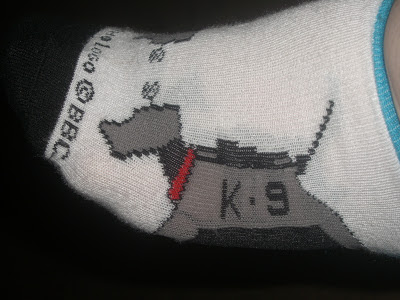 My K-9 Socks
K-9 socks
:
Hot Topic
The socks were hidden during church under my boots but I took my shoes off during book club and got several compliments on them.
What the Peanut wore.
Action shot of teeth brushing.
Polo shirt:
Target
Black suit pants: Hand me down once worn by my little brother
Shoes:
Converse Teen Titans
Accessories: Toothbrush from Target
The shoes were bought a few months ago in a full size too large. He is already growing out of them. Which is ok because I am going to put pink shoelaces in them and let the Princess wear them next.
What the Princess wore.
Dress and leggings: Birthday gift
Socks: Gift from a friend who crocheted the fringe on herself and added the beads. So obsessed with the cuteness!
The towel on the floor was to catch the water dripping through from the upstairs bathtub while my husband took his shower.
And we went with a ponytail which by the end of Mass looked like it had been slept in thanks to her rolling all over the pew.
After Mass my husband took the kids to a play date movie and my friend who met us at Mass drove me home for book club.
Which is when I realized I didn't have my keys.
That's right. I locked myself out of my house on the day that I hosted book club.
Thankfully my sis-in-law has a spare key.
And was able to come rushing to my aid.
So, we did not have to have book club outside in the cold. And I did not have to make my husband leave the movie theater to run his keys out to me.
And his Granny and Aunt did laugh at me when I called looking for a spare key.
In case you are wondering. I am sure you are. The book club book was
Out of the Silent Planet
by C.S. Lewis. My pick. His Space Trilogy are my absolute favorite books of all time.
*This post may contain affiliate ads. Read my full disclosure
here
.