There are certain household tasks that I consider utterly unnecessary.
For example, ironing. Really. Clothing gets wrinkled so we iron the wrinkles out. Then we wear the clothing and it gets wrinkled. Then we wash the clothing and it gets more wrinkled. So we spend extra time and effort to iron the wrinkles out and repeat the cycle.
I really want to know who decided at some point in time that wrinkles were undesirable.
What did the wrinkle ever do to you?
Is it really hurting anyone?
No. I thought not.
You know what has hurt someone?
An iron
. That's right.
People have this aversion to wrinkles drilled into them.
If everyone stopped ironing their clothes then no one would even notice the wrinkles anymore. No one.
Also, that's what the dryer is for. And did you know they now make wrinkle free clothing? That's right. Problem solved.
Dusting.
Dust settles on stuff so you swish it off. It all flies up in the air, swirls around a bit, and settles right back down on the thing you just dusted off. Big fat waste of time.
Vacuuming. I mean how bad would it be if I just stopped vacuuming?
I mean, I have a dog. So, it's not like there's any food on the floor. That was the number one reason I got a dog.
Seriously. I really wanted to get a dog so I could stop vacuuming.
More than a year ago, our vacuum broke.
I know it was more than a year ago because I last hosted bookclub in January of 2012. And I couldn't vacuum because the vacuum cleaner was broken.
Ok, before you get totally horrified, I did have a backup.
I used a shop vac to vacuum.
Do you know how hard it to vacuum an entire room with a shop vac?
A friend of mine found out the hard way when she showed up early for bookclub and offered to vacuum for me (big mistake) while I finished baking 12 different types of bread. We were reading Hunger Games and I was having delusions of grandeur and trying to make the food match the book theme. It was a disaster as you can probably imagine.
Anyway...
The nice thing about the shop vac is that it has great suction. The bad thing is that you have to hunch down with the hose and vacuum a tiny spot at a time.
Which is why I pretty much just stick to vacuuming the bad spots and ignore the rest.
Then the shop vac stopped working for awhile. My husband did eventually fix it.
We don't have a convenient place to store the shop vac so whenever I need to use it, I have to expend a colossal amount of effort getting the thing out and at that point I am too tired to actually use it. Or at least that's what I tell myself would happen if I bothered to take it out.
In case you were wondering. After a year of not (really) vacuuming, I have been persuaded that vacuuming may in fact actually be somewhat necessary.
Just take my word for it.
Last week our nephew came over to play a game of
Resident Evil the card game
.
We had just finished playing when my husband turned to me and said, "I'm hungry. Make me some dinner woman!"
Before I could smolder him to dust with my glare, he quickly turned to our nephew and said, "I just said that to show you how you should never ask your wife to do something for you."
A few minutes later he told me he was planning on buying the vacuum cleaner we had been looking at.
"I'll pick it up on my lunch break and drop it off at home. Then you can test it out to make sure it works so when I get off from work I can take it back if there's a problem."
I turned to our nephew and said, "And that is how you ask your wife to vacuum the house."
He was quick to clarify that wasn't his intention at all. I'm not convinced.
Wednesday, the new vacuum was purchased.
In a stroke of genius, I ordered the vacuum online from
Best Buy
for store pickup. My husband had been planning on just going into the store and buying it but I realized if I ordered it online, I could use
ebates
and get cash back! Best Buy rewards
and
ebates, does it get any better?! I recently did the same thing at
Lowe's
. Those ebates can really add up!
We bought the
Hoover Windtunnel
because it seemed to have the best rating in the "cheapest vacuum you can buy" category.
It has a washable hepa filter so no need to buy replacements. It's bagless. HALLELUJAH!! Has a super long cord that's auto retractable. Sweet!
Oh, and it's green. Super sweet.
I got right to work.
She wanted to! She likes to help with the housework. Don't know where she learned that from...
I have to say the vacuum works really well. I figure I gave it about the toughest breaking in possible.
I did have to empty the canister three times while vacuuming the living room but, considering the circumstances, I can hardly blame that on the vacuum.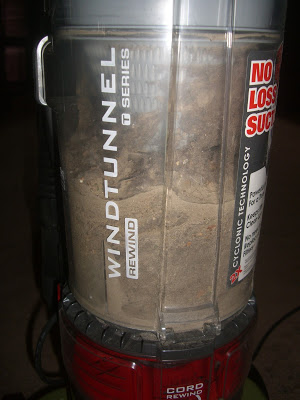 Ewwww
The problem with vacuumed carpet is, you are then reminded you haven't steam cleaned in over a year either...
I then used the vacuum to dust because, as it turns out, dusting is also necessary.
*This post may contain affiliate ads. Read my full disclosure
here
.