Remember me telling you that
I needed to
clean my house and put my Christmas tree up?
And I showed everyone how super messy it was
.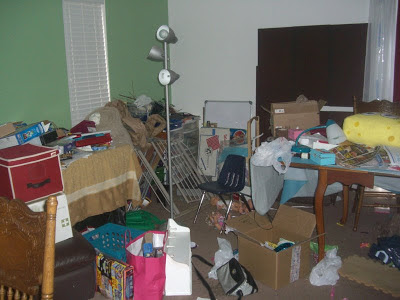 It was super messy.
Well, I got it reasonably cleanish. And I found a place for the tree.
Last year I had it in this corner.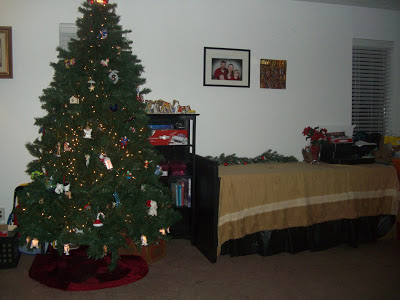 But I have since acquired a sewing table and put it right where the tree would have gone.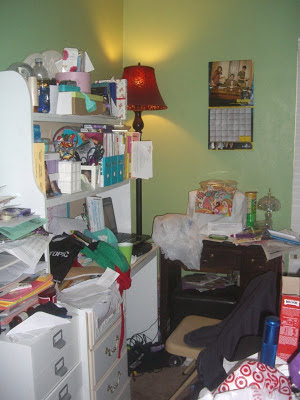 Plus last year it was a bit of a pain to sit at my desk with a tree jabbing me in the back.
So I needed a new place.
Trouble is there really isn't another really good spot.
Until I had the bright idea to put it right where our dining room table is.
In the spot that looked like this.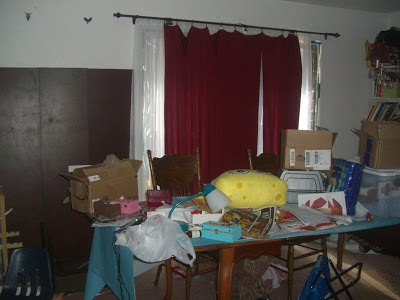 Obviously I had some work cut out for me.
I started by buying yet another item to cram into the room.
A cabinet.
Where could I possibly have crammed that in?
I did some rearranging. And moved the sewing table in front of the window.
Sorry for the dark pic.
See how clean?!
This serves several purposes. Extra room in which to add cabinet. Natural light when sewing. Keeps kids and animals from climbing on window sill to look out window and tearing up blinds. Covers up broken blind.
Good stuff!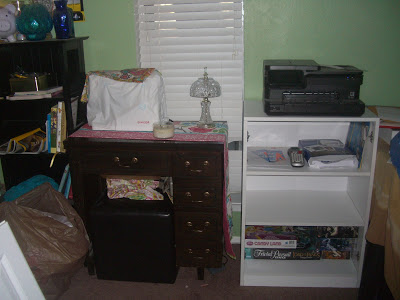 I later added doors to the cabinet. Look how perfectly it holds the printer!
Eventually I want to get rid of that table along the wall and add more of the same cabinets.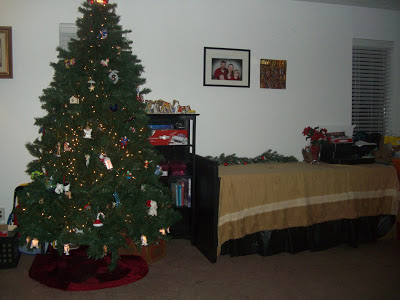 Imagine an entire wall of pretty white cabinets.
They will be perfect to hold all our homeschooling and craft supplies that are now either under that table or in the back of my closet and not easily accessible.
Once I had the cabinet in I started working on cleaning a space for the tree.
And moving the dining room table out of the way.
But where would I put such a large table?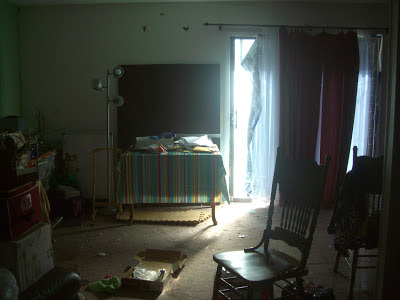 Work in progress.
See that small table there against the wall?
That's the dining room table. Because it's the best table ever!
Not only does it have three removable leaves, THREE! It also has sides that fold down. So, it can go from being a table so large that it is almost impossible to find tablecloths for (100 and something inches) to a tiny little two chair table that can be slid up against the wall and out of the way.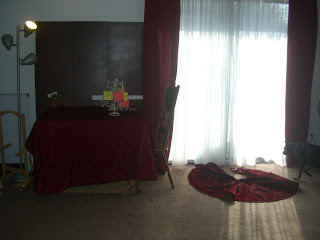 It also creates a perfect little spot for the Jesse Tree, Advent Calendar and Nativity scene.
So as to create room for a Christmas tree!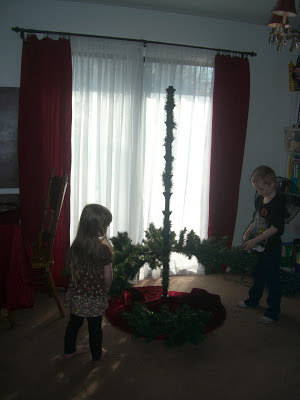 The kids helped my by "fluffing" the branches.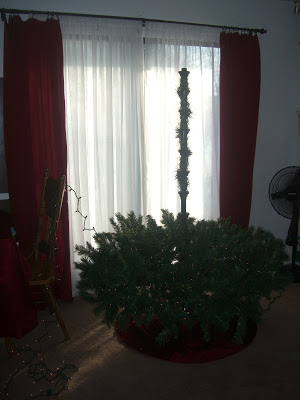 And I strung the lights as I went.
This year I finally perfected my light stringing method. Of course it helped that I finally had enough lights to cover the entire tree and didn't have to stretch them by skipping branches.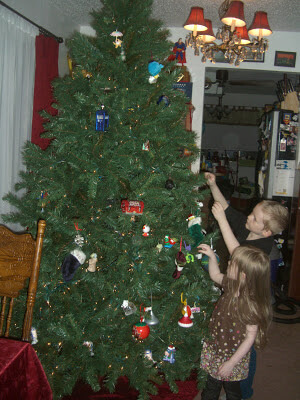 I let the kids add the unbreakable ornaments.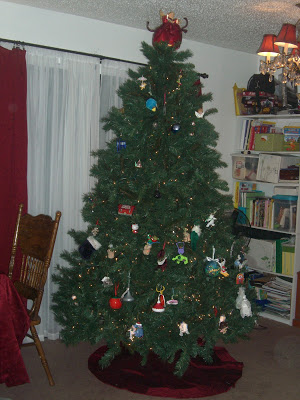 As you can see the ornaments mostly ended up on the bottom front of the tree. The kids told me at one point that there was no more room for ornaments on the whole tree. Since then many have fallen off and been relocated so they are a bit more evenly dispersed now.
I still have more decorating to do but the tree is done.
*This post may contain affiliate ads. Read my full disclosure
here
.