Kids, have I ever told you how I met
your father
?
It was the winter of 2002. I was working as a "Customer Service Rep." in a call center. A friend and former roommate of mine, who worked in the same building, but different department, stopped by my desk to chat. Let's call her Leeny. ;)
Little did I know a co-worker of hers had passed by and noticed us talking. He had taken special note of my name plate on my desk.
Later he would play a little prank on her. "How do you know Rachael?" he asked. She, surprised that he somehow knew me, started chattering away about going to college together, being close friends, living together with 5 other girls in a rental house after graduating . . . "How do
you
know Rachael?! she asked.
"I don't! I never said I did. I just asked how you knew her." He laughed. She rolled her eyes.
But that was enough. Enough for Leeny to begin to tell him little things about her friend Rachael. And one very important detail. The detail that created the first spark. The detail that gave him his
in
. . .
I was a fan of the show Smallville.
He, since the age of 3 when he received his first Superman "action figure" (who just happened to be doll sized) was a huge Superman fan. As a huge Superman fan, naturally he was a huge Smallville fan.
So, the next time he saw my friend / his coworker at my desk chatting he took the opportunity to walk over to tell her hello. Oh, and get introduced to me.
Leeny introduced him as Donavon. "Donavon is a huge fan of Smallville too!"
After that he frequently found himself in my area of the building (exact opposite side of the building from his desk) and would stop at my desk to ask a question about a recent episode of Smallville, or check to see if I had recorded an episode he had missed, (sadly I hadn't though I did usually record them) or drop off a tape of an episode I had missed, etc.
Then he finally got up the nerve one day to ask Leeny for my phone number. She gave it to him. He called me and asked me out. That day also happened to be
the feast day of St. Valentine
.
Less than a month later we were engaged. For the next 8 years of our relationship we continued to watch Smallville together. Even during the 2 years he spent in
Tokyo
, I would record episodes of Smallville and then take them with me to visit him. His mother would record and send the episodes I missed while I was there.
I still remember the thrill of watching the first Christopher Reeve episode. All the little bits of trivia Donavon would share with me made me appreciate the show all the more. Over time I learned more and more about the Superman universe. Little details that I would have missed gave a whole new depth to the show.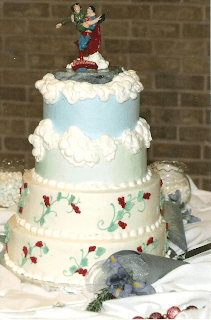 Our Wedding Cake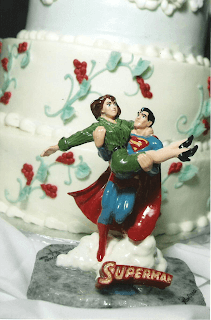 Our Wedding Cake Topper
Today the last episode will air. And that makes me sad. Maybe it's a little silly to have such a strong emotional reaction towards a TV show. I can't help myself. It's been a special part of our entire relationship. It's hard to imagine not having episodes to look forward to each week. Don't get me wrong there are still plenty of other shows we watch.
But there is only one.
Smallville
.