As I am organizing my Christmas shopping list this year I thought I would share a few gift ideas in case any of you need some inspiration.*
Ideas for Girls
My daughter bought this guitar for herself with her birthday money and she plays with it every day. They also make a keyboard that I am considering getting her for Christmas.
Dream Dazzler Stylin' Guitar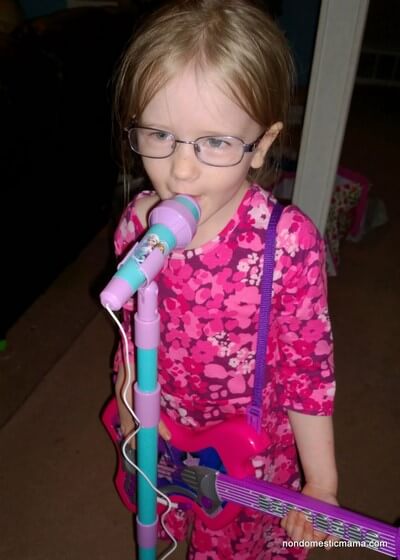 I do
NOT
recommend a microphone. Also bought with her birthday money. Do yourself a favor and avoid the noise amplifier! She loves it. I do not.
First Act Disney Frozen Microphone and Amp
This Ever After High doll is on the top of my daughter's wish list this year. She loves the TV show and her favorite character is Lizzie Hearts.
Ever After High Lizzie Hearts Doll
Even better. How about a doll that teaches her something?
Goldie Blox Action Figure with Zipline
Ideas for Boys
Lego and Minecraft together in one toy. Winning!
LEGO Minecraft The Village 21105
The only game that gets played as much as Minecraft in this house is Little Big Planet 2. Little Big Planet 3 just came out. It just might make it's way under our Christmas tree.
Little Big Planet 3 - PlayStation 3
I'm telling you, you really can't go wrong with Lego! Add in some superheros. More winning! My kids have not found a Lego game they don't love.
LEGO Batman 3: Beyond Gotham - Xbox 360
My son decided he wanted to learn chess so we got him this version. The pieces have a guide on the back to show how they move. Pretty cool.
Chess Teacher
Ideas for Both
The kids saw this kit at the grocery store the other day and asked for it. I thought it would make a good little project during the Christmas season. A little reminder that Christmas doesn't end on Christmas day.
Create-a-treat Gingerbread House Kit, Deluxe Model
Every year my sister in law buys everyone ornaments for Christmas. She chooses something for each of the kids that they really love that year. It's so great looking back at the previous years ornaments seeing what they have enjoyed through the years.
Olaf Disney Frozen 2014 Hallmark Keepsake Ornament
What kind of homeschooler would I be if my kids didn't get educational toys for Christmas?
SmartLab Toys Science Lab
Don't have a game system? Check out this game. It just plugs right into the TV. You can also get extra figures to use with it. We have been fans of the plug and play style games because you can take them with you when you travel and use them anywhere.
Teenage Mutant Ninja Turtles Hero Portal Game
On Christmas Eve we like to let the kids open one present. It's always pajamas. Then they get to wear them that night. Mainly because I want cute pictures on Christmas morning and I know we will be opening gifts in pajamas. This year I'm hoping to do superhero "feety" pajamas!
DC Comics Boys Batman Footed Blanket Sleeper Pajama
Ideas for Baby
We got these "guys" for Mr. Cool for his birthday and he seems to be a big fan.
Fisher Price Little People DC Super Friends Exclusive Figure Pack of 7
How about a real life super hero?
St. Nicholas Collectible Vinyl Figure
Stocking Stuffer Ideas
Cute socks are always a winner. Kids never seem to have enough socks!
Jefferies Socks Little Girls' Ruffle Christmas Socks 2 Pair Pack, Candy Cane/Dot, Small
Another thing my daughter bought with her birthday money was this mini Simon game. Perfect size for a stocking.
Simon Electronic Carabiner Hand Held Game
My kids have decided they want watches for some reason.
LEGO Kids' "9001192" Star Wars Darth Vader vs. Obi-Wan Kenobi Multicolor-Plastic Bracelet Watch With Two Minifigures
How about some "guys" to go with that portal style game?
Teenage Mutant Ninja Turtles, Hero Portal Booster Pack, Casey Jones and Splinter, 2-Pack
I usually put some candy in the stockings and it has kind of become a tradition to put a Christmas Tree Cake in each stocking.
Christmas Tree Cakes
Alright, I'll stop now. I could probably go on and on but I'm trying not to get too carried away this Christmas. Less is more.
What are your kids getting this year? Tell me what I've missed!
*This post contains affiliate ads. Read my full disclosure
here
.