Theme Thursday is back! And not a moment too soon.
True story.
Here I was hanging out on my computer willing a blog post to just write itself and I could not come up with a single thing to write. Actually I have been writing something all week but it's just turning into a big old mess (big surprise) so I decided to step away from that one for a bit.
Then I thought I would check Facebook for some inspiration. Which of course really means get sucked into the social media vortex and never emerge.
The theme this week is Old Fashioned. The theme could not be more perfect.
Yesterday, I had the random impulse to sew something.
Now, in my usual lazy manner, I didn't want anything too difficult. Just a quick little sewing project. No real planning, no purchasing any supplies or materials, and most definitely no pattern.
Then I saw a tattered old pillowcase I had thrown into my fabric stash. I really like the fabric on the pillowcase but it had come apart at the seams. Literally. (For real again.)
So, I cleaned off my sewing table.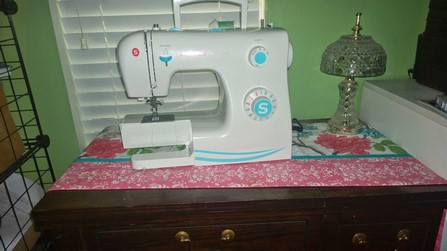 And by cleaned off, I obviously mean moved the pile of stuff off the sewing table and onto the dining table.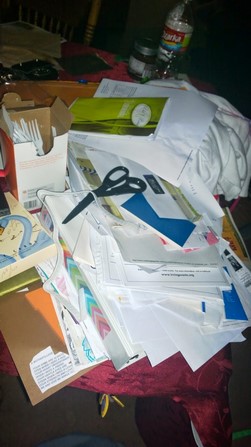 Set up my sewing machine and decided the machine needed a better cover than the plastic one it came with. What would be cuter than a cover made from an "Old Fashioned" pillowcase??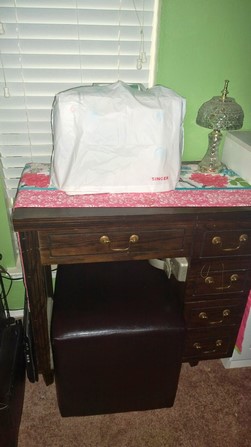 That plastic cover totally clashes with the "old fashioned" sewing table hand me down and the "old fashioned" crystal lamp from my husband's grandmother.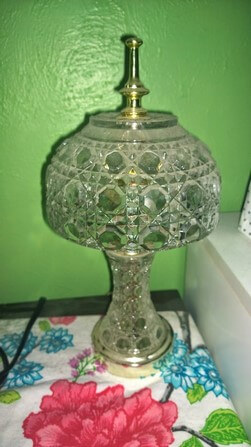 I cut the pillowcase in half to fit the machine. All it really needs is a hem. But that's not a lot of fun.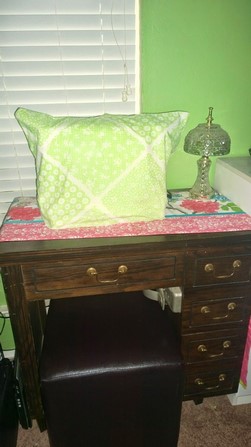 Much better.

I looked at what was left of the pillowcase. Just enough for a little skirt for the princess.
Lazy style.
Here is my detailed tutorial. I am using super technical sewing terms here and didn't bother taking any pictures so try to follow along.
It wasn't quite long enough so I had to sew the white part back on. Would have been so much easier if it had stayed on in the first place.
The white part had been sort of sandwiched around the green part all pretty and neat like. Because I didn't have a better idea, I decided to sew it back the way it was. It wasn't as easy as it might sound. I had to sew a guide line on the green part to line the white part up to on both sides and pin it then sew it all together.

Fine. It wasn't that super complicated but, remember, I was being lazy.
Also, I had no white thread. I had one bobbin with off white and no actual thread that even closely resembled white. How did the white thread get on the bobbin??!
I suspect a Princess sized thread thief.
I just used light green. Who really looks that closely at the thread color anyway?
Once that was done I just made a casing on the top and inserted elastic. Easiest skirt ever. Yes, it looks just as professional as it sounds.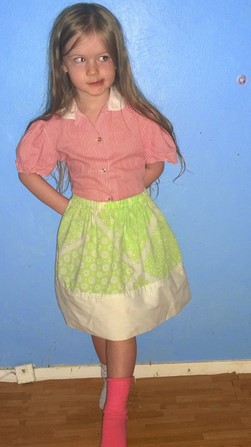 The shirt she is wearing is an "old fashioned" shirt that was mine as a child. There are Velcro squares on the shoulders where an apron used to attach.
The mismatched socks pull it all together.
Ignore that "old fashioned" phone jack and the mud splashes on the wall.
Told you mud gets everywhere
.
I sat her in
my "old fashioned" rocking chair
and my husband suggested the "Little Golden Book." I used the "Ivory" filter on my phone.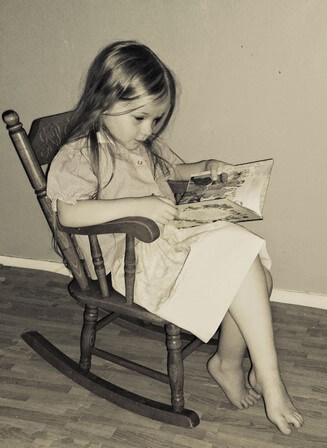 After I got the picture, my husband suggested putting her hair in a bun. Awesome idea but I liked this picture too much to re-shoot.
Linking up!