I didn't get a picture of the Peanut on Sunday because he had already gone to class and I went straight to bookclub after Mass. He was wearing his usual polo and brown pants combo.
I wore
my eShakti dress
on Sunday. I added a cami since that little snap won't stay closed. Definitely have to remove the snap.
The blue and green combo was already so colorful and I figured you can never have too much color. NEVER! I thought I might just see how a little orange would look thrown into the mix. Honestly, I was pretty sure it would be a total disaster. It was worth a try though. You can't really see the cami well in the picture but I was actually pretty happy with how it looked.
Of course, since I was wearing a short skirt, it was a very windy day. Think Marilyn Monroe. Right. Good thing I wore shorts underneath. Still wasn't a fun walk to and from the church.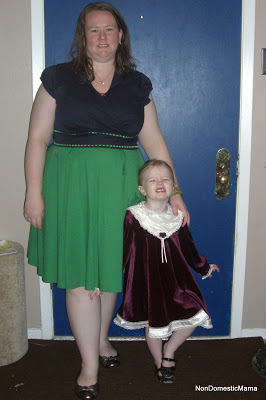 Me
Princess
Dress: Hand me down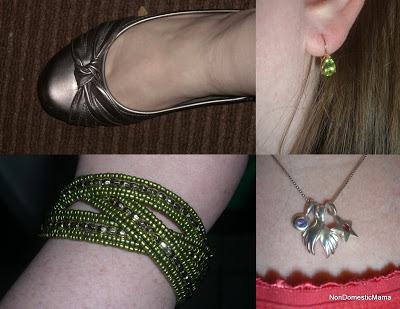 Check it out! I figured out how to make one of these fancy collages and add my watermark.
Accessories
Shoes:
Avenue
I just might buy a backup pair for when I wear
these
out. I love them so!
Bracelet:
Avenue
Earrings:
Helzberg
gift
Necklace:
Luna & Stella
gift
Linking up at
Fine Linen and Purple
*This post may contain affiliate ads. Read my full disclosure
here
.