Yesterday
this happened
.
I may* have teared up a bit.
*totally did
So, I thought I would tell you about my memories of
Saint!
John Paul II.
My first memory of him is actually my first memory.
We were in Rome. I was about 4 years old. I just remember being in a huge crowd of people and my father lifting me up on his shoulders so I could see. I saw a man in white go by and I vividly remember the excitement of the crowd. That's it. A flash of memory.
Then in 1987
he visited my hometown of San Antonio
. I remember getting on a bus and driving past the large pits that were being dug for a new theme park called Sea World. It was hot. Everyone had umbrellas to protect us from the sun. It was amazing. I couldn't believe the Pope was in my hometown!
1993
World Youth Day in Denver, Colorado
. My youth group took a bus to Denver. That trip was life changing. Still one of my favorite memories. I still have the t-shirt we all wore. Still know all the words to "We Are One Body." Did I mention it was my 15th birthday? Yup, doesn't get any more awesome. And to save you time doing the math, that makes me 29. Sadly my camera broke so I have no pictures of that trip.
In 1998 I spent a semester of college in Rome. We attended a Papal Audience where he welcomed our University by name. He was obviously tired and in pain but when a group of children started singing he perked right up. It was beautiful.
Then on Good Friday I attended the service at St. Peters. We were close to the aisle. So very close.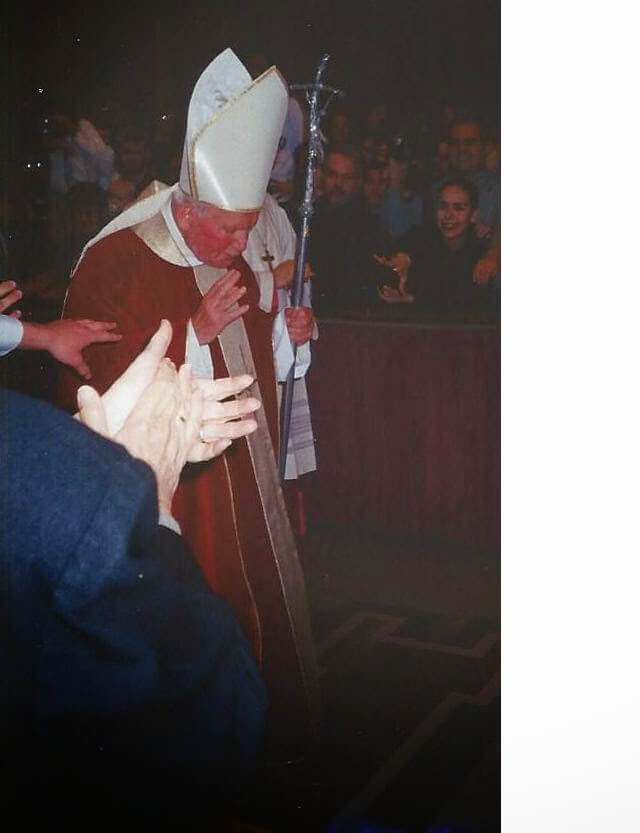 He was
that close
to me. He even stopped to bless a child at the end of our row. I was barely more than an arms reach away from him.
That was the last time I saw him in person. I still don't know why I was blessed enough to see him so many times in my life but I am very grateful.
Saint John Paul II, pray for us!
*This post may contain affiliate ads. Read my full disclosure
here
.