That's right! The day we have been anxiously awaiting all year is finally near at hand.
The day we can finally get that well deserved break from all the exhausting, never ending, chore no one wants to do but everyone has to anyway, housework.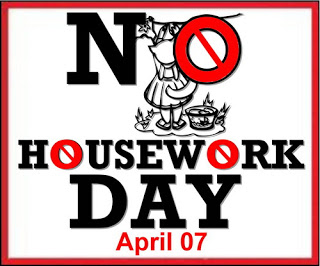 No Housework Day
is almost here. It's so close I can almost taste the sweet sweet bliss of relaxation.
Stock up on those bonbons, make sure to put your reserved sign on the recliner and get your blog post's ready.
Because you are all invited to join me and Jenn @
Coolest Family on the Block
for our third annual No Housework Party!
From Friday, April 5 until Friday, April 12, stop by and
link up
your post.
Don't worry if you aren't a blogger, you can still join us. You too deserve a break from housework!
Check out the
No Housework Day
link at the top of my blog for more information. While you are waiting, feel free to grab the
countdown widget
and join us in counting down to
No Housework Day 2013
.