Which obviously means I am going to wear my Doctor Who t-shirt.
Especially since today is Tom Baker's Birthday! Happy Birthday to
my
Doctor.
One of the things I love about Matt Smith is that he reminds me a lot of Tom Baker. I have this theory that each of the modern era Doctors mirrors one of the classic Doctor personalities.
And if you are not a Whovian you have no idea what I am talking about. I was a Whovian before the term Whovian became popular so I am not really sure how I feel about the title...
What I wore: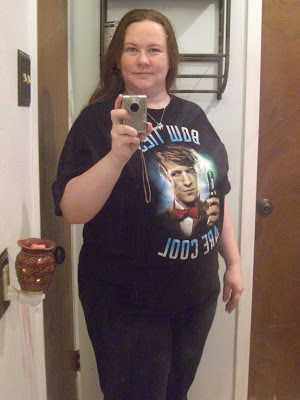 Bow Ties Are Cool
Matt Smith Tee
: Hot Topic after Christmas sale for $10 score!
Jeans: ebay
Peanut:
Black cords: Target
R2D2 Dogtag: Target
Star Wars Birthday Jedi Pin (not actually his birthday): Party City
Princess:
Jeans: thrifted
*This post may contain affiliate ads. Read my full disclosure
here
.