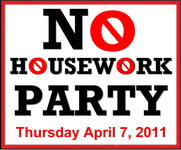 Today is "No Housework Day"! Welcome to the first annual No Housework Party blog hop hosted by the Coolest Non-Domestic Mamas on the Block …Jenn and Rachael!

Whether you never lift a domestic finger or you are a dedicated domestic goddess…we're giving you the day off !
(Click on the button to get the code)
Link up any of your housework related blog posts.
Here are a few writing prompts. Get creative!
-How are you celebrating No Housework Day?
-What do you do instead of housework?
-Tell us about that time you tried to clean something and it backfired on you.
-How did you become a Domestic Goddess / Domestically challenged
-Share your housekeeping/organizing tips and tricks
-Confess your mess…be brave and show us pictures of your messy house
-Tell us your most/least favorite chore
-Why you hate/love housework
-How to you make housework fun (or at least bearable)
-Do your kids help with the housework?
Link up here or at Coolest Family on the Block Thursday April 7 through Sunday April 10 to party!
If for some reason you don't see the link up here let me know and I will be happy to add your link!
Want to post this linky on your blog? Click below to grab the code!
(Please include a "No Housework Party" button with a link back in your post!)
get the InLinkz code
You can also party with us on Twitter at #nohousework where @coolfamilyblog and @nondomestic will be tweeting links and housework related quotes throughout the day :)