The #1 search term leading visitors to my blog is "
how to dress like a mom
." Everyday women all over the world look to me for fashion advice. As you can imagine I don't consider myself fashionable in the least.
Imagine my surprise when I read
this post
by Cari @ Clan Donaldson. She is participating in a fashion linkup and the inspiration is this picture.
Wait! I own this outfit!!! I wear it all the time! More or less. Are you telling me I can be fashionable? Well I certainly have to try.
Let's start with the skirt. Long neon colored knit skirt. Check!
Do I go with Star Wars?
Too cartoony.
Purple Batman?
Pepsi?
Finally I found the perfect option.
I decided this was the best option because it was a bit longer, a thinner knit and more close fitting.
Just like
the inspiration shirt.
Jean jacket?
Shoes?
Jewelry?
Necklace is a roundish glass looking pendant.
Bracelet is a thin leather strap.
This leaves the purse. Here I am somewhat at a loss. I don't really have anything similar.
Problem is I don't wear sunglasses. I can't wear any kind of glasses because they give me a huge headache. Can't have anything touching my nose.
But on closer inspection I have something even better.
They aren't the same color but are the exact perfect shape!
I think I totally nailed it.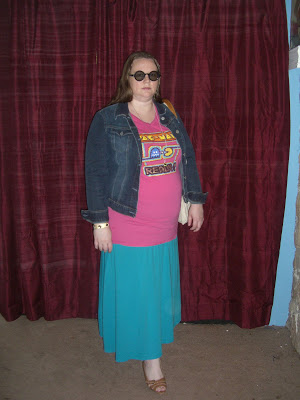 Jacket, necklace, skirt: New York & Co.
T-shirt: Walmart
Shoes, bracelet: Avenue
Tote: gift from sister
Glasses: AMC Theatres
Now if that isn't fashionable, I don't know what is!
My daughter was so impressed she decided to mimic me.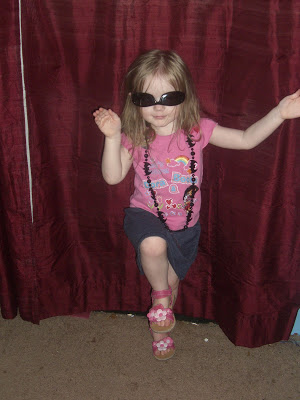 Note the one foot foward pose.
She totally came up with that outfit all on her own. I think I have a little protege on my hands.
In all seriousness though, this is what I actually wore out in public today.
If you want to see some actually fashionable folks, check out
Kayla
and
Erica
and
Grace
.